'Out Of The Fold' Textile Exhibition, Bury St. Edmunds, update...
Sunday, October 25, 2009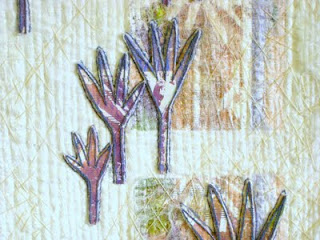 Friday evening, the 23rd October, we officially opened our Out Of The Fold with a private viewing. The ladies, who had been setting up the exhibition in the morning, had done a fantastic job! I just couldn't wait to get there in the evening to see the result! And it was lovely!!! The exhibition is in the down stairs gallery in the very center of Bury St Edmunds at Cavern4. The building is very old and the exhibition space has a lot of rustic character with white walls and black wooden beams. One of the ladies sold her stunning 'inside out' piece on the opening evening. I'm so happy for her. She is so talented.
I was stewarding the exhibition Monday morning and it was lovely chatting to the people who took time to stop by on a dull autumn morning. I will be stewading again, Friday afternoon (1pm-5pm) and all day Saturday the 31, which will be the last day the exhibition is open.
One of the themes for the exhibition, was that we were all to make a long slim quilt 18 inches x 48 inches on the title 'inside out'. I know that I'm biased, but it was superb to see all the 13 quilts hung side by side. Having all worked to the same size really had a strong visual impact, and for me emphasised the group identity. As a wonderful 'add on' these 13 long art quilts will be traveling to Australia in April/May. Annette Morgan, the groups mentor, has been invited to teach and to bring some British art quilts Down Under, and has asked if she could borrow our quilts. It is so exciting!!!
The Australasian Quilt Convention 2010, Melbourne, Victoria
The quilt in this blog post is my 'inside out' quilt: "Through The Layers".