Stars, lots of stars....
Tuesday, October 20, 2009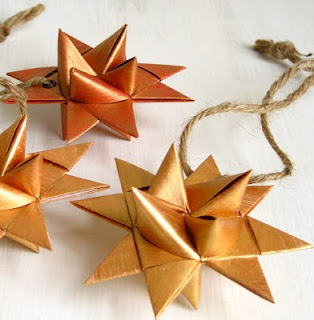 Did I have a lot of fun last night :-) I belong to a quilting group called 'Material Girls'. We meet once a month for two hours at a community center. I have been coming to the group since we started it about 10 years ago. It is mainly a quilting group, but others crafts are represented as well. Everyone is welcome so we have the absolute beginners and new to quilting/patchwork to the very experienced. Usually about 15-25 ladies show up when we meet. Sometimes we have a lecture or a workshop, other times we help each other, if somebody has come to a grinding hold with a project. Last night I taught the 24 ladies. It was such a good laugh.
I had been asked to teach them how to make the very traditional Danish Christmas ornament, an origami star folded in paper or fabric. When I told my sister that I was going to teach star making to the group she just looked at me and said "you are a very brave lady!" She claims that she is yet to figure out how to make the stars after countless unsuccessful attempts. Anyway... All I had asked the ladies to bring was a small pointed pair of scissor and patience! I would provide a kit with pre cut strips and instructions. And I'm proud to say that most of the ladies went home with a star and a big smile on their face and no one broke down in tears..... :-)