Want To See My Dye Batch?
Thursday, March 19, 2009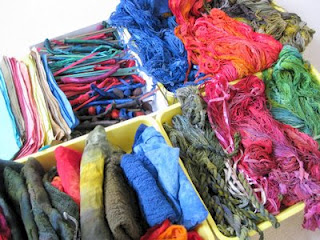 The result!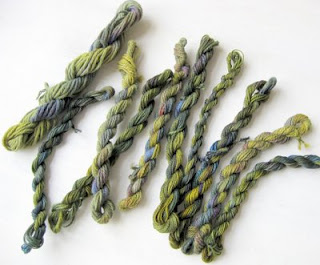 These skeins of space dyed thread, all ready to be used in a project, came from my first dye batch done Saturday.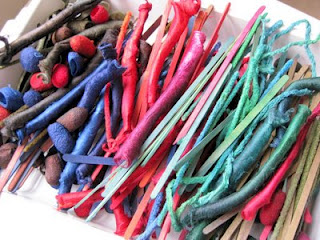 Bits and pieces: silk cocoon stripping, pipe cleaners, coffee stirrers and silk cocoons. You never know when they come in handy for a project.
The dyed colour catchers I wrote about in my post yesterday. Aren't they lovely?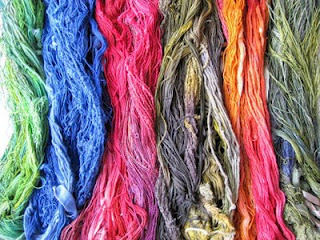 Thick hanks of dried threads, ready to be separated and twisted into skeins.
I thought I would share the results of my last two dyeing days. When everything is rinsed and dried. The kitchen thoroughly cleaned and all the dye stuff put away, then comes the best part. To enjoy what you have been doing, taking in the result and the richness of the colours and textures. You just want to sit there and touch the yarn/fabric assessing the colour combinations and thinking about future projects. I always write down what dye combinations I have used. I won't ever be able to reproduce the exact dye batch, but I can aim at getting something similar. I just love to dye and have been experimenting with lots of dyeing techniques over the years. You can make the process as controlled or as unpredictable as you want. Space dyeing, the technique that I have used here is one of the "happy go easy" ones. What ever happens happens, and if you don't like it you can always over dye the lot :-)